Custom Vest Printing
Customizing your clothing can benefit your business by advertising your company wherever your workers are.
Create excitement in your company by providing workers with customized safety apparel they are proud to wear and value.
Promote workplace safety by offering your workers custom printed safety gear provides an incentive for increased compliance
which decreases the chance of accidents and injuries on the job. Safety First!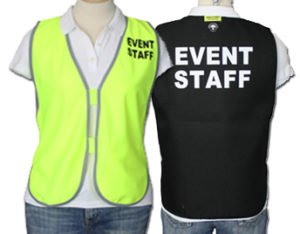 Artwork Requirements:
Art files must be in Vector format in original file format.
A vector graphic is made up of lines, curves, and shapes created using paths instead of pixels, allowing it to be scaled up or down without loss of quality.
Preferred file artwork vector saved in:
Please limit file sizes to 30 MB.

If color changes are needed, provide desired PANTONE® color.
All fonts should be converted to outlines.
The ideal way for best resolution is to send files at 100% and at a minimum 300 dpi.An EPS file is an example of a vector file format. Adobe Illustrator®, Macromedia Freehand® and CorelDraw® are able to open and edit these files.
Vector files may also be used in other design software, e.g. QuarkXpress™ and Adobe Photoshop®.
NOTE: Not all EPS files are vector graphics. Adobe Photoshop® also saves raster graphics in EPS format. If you open a vector file in Photoshop® and save it, it will become a raster graphic.
 
We also offer Custom Decals for Helmet.  Just mention in the comment box your request is for stickers.
The decals are Digitally printed on peel-and-stick paper
CSA/HECC compliant for Nike Bauer, Reebok-CCM, and Mission-ITECH helmets
No per color fee, unlimited colors
Quote Request
Fill out the form below for a quote.
1. Enter the vest/jacket SKU number on the "Product item number" box.
The SKU number can be found below the cost of the item.
2.  Add the quantity you need in the "How many" box.
The cost depends on the quantity of items ordered.
3.  Add the text you want on the front of the vest in the "Word/name Enter text" box.
If you do not want any text on the front, leave the box blank. If you are adding your logo, enter the name of your logo.
4. Add the text you want on the back of the vest in the "Enter text for back if any" box.
If you do not want any text on the back, leave the box blank. If you are adding your logo, enter the name of your logo.
5. Upload your artwork.  Click on the "Choose file" button to add your logo.
6. Send us a message in the "Any comments?" box for any change you need on your logo, adding on additional words, or helmet sticker decal requests.
7. Click  "Send". After uploading your artwork, a customer service representative will respond to you within 24 hours, during normal business hours.
Once we receive your artwork, we will send you an Artwork Approval that you must approve through e-mail.
Note: Custom printed orders must be called in. If you place your order online, your order will not print.
The higher the resolution, the clearer the results, and the quicker you will receive your proof.  We will not print without the Artwork Approval.
If you do not have any of the files required or have a different file type, feel free to send it to us and we will see if we can work with it.
Having trouble sending us your logo? Send it directly to logo@safetydepot.com