High Visibility Winter Safety Jackets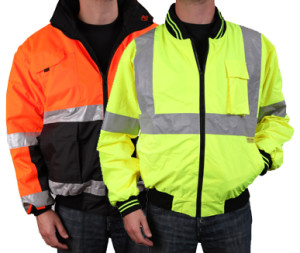 Safety Depot provides safety equipment and high visibility clothing and jackets for every environment. For the colder months, we offer a wide range of sturdy, heavy duty Winter Reflective Safety Jackets, sure to keep you warm and safe while working. Each Safety Jacket is rain resistant, ANSI Class 3 certified and equipped with reflective tape or pockets for practical uses. For lighter options, we also sell safety sweatshirts in both zip up and pullover styles. Suited for construction workers, utility and survey crews, traffic police, railway workers, surveyors, school crossing guards and airport ground crews.
If you also need safety gear for the cooler weather you should browse our selection of rain boots, pants, safety glasses caps and beanies. These products are perfect for winter because they too have high visibility and a variety of styles while providing the warmth and rain resistance you need while working out in the cold.
Additionally, Safety Depot provides CUSTOM LOGO PRINTING on all winter reflective safety jackets. Click Here for more info.
Lime and Orange Reflective Safety Jackets
Safety High Vis Sweatshirts
Reflective Rain Gear
Safety Orange and Lime Pants
Reflective belts, caps & beanies