Colored Safety Vests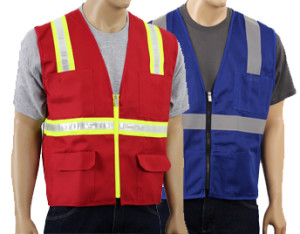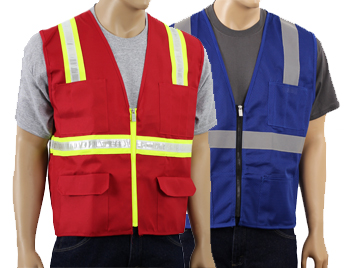 Safety Depot has one of the largest, most varied selections of Colored Safety Vests. All being 100% polyester, lightweight, comfortable and high quality safety vests for an affordable price. Offered in solid or mesh, the fabric allows for a very breathable vest for even the hottest of summer times. A collection of 10 diverse styles, including economy and incident command, with 11 varying colors.
Many companies use colored safety vests to designate distinct colors for certain jobs. For example, the red color is Fire Truck Red which is an intense bright red commonly seen on fire trucks and emergency vehicles while the Navy Blue color is a dark/deep blue which is great for jobs that may get messy. We offer red, orange, yellow, dark green, light blue, royal blue, navy blue, pink, white and black safety vests. Choose the colored safety vest that suits your needs, while ensuring you will not compromise safety.
Additionally, Safety Depot provides CUSTOM LOGO PRINTING on all colored safety vests. Click Here for more info.
Colored Safety Vests