Choosing the right safety vest:
Safety Depot's ANSI Class 3 reflective safety vests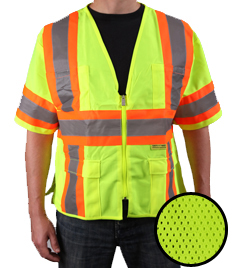 Safety Depot offers a choice of 12 Class 3 reflective safety vests that meet ANSI (American National Standards Institute) and ISEA (International Safety Equipment Association) standards. Let us help you make the right choice for your crew, based on the hazardous work being performed – both in color and style.
Class 3 reflective safety clothing should be worn by workers exposed to the most complex and extreme conditions. These workers need to be seen at a greater distance, particularly by vehicles driving within close range at speeds 25 mph or higher. The intention of a high visibility Class 3 garment is to provide visual advance warning to drivers of oncoming vehicles and equipment that a person is working ahead or in close range, and to use extreme caution when approaching.
Workers needing Class 3 reflective safety vests are:
Road construction crews

Emergency responders

Utility workers

Road surveyors

Any occupation where workers are exposed to extremely hazardous outdoor and roadside conditions
Safety vest color – it matters
At Safety Depot, we understand that safety garment color selection is critical. A safety garment should starkly contrast with the environment, to keep workers visible.
To help determine which color will be easily detected and effective, think about the overall job site and ask yourself the following questions: What's the environment like – urban, rural, forested or heavy foliage, desert, etc.? What color is the heavy equipment being operated?
For instance, if the heavy equipment being operated at the site is primarily orange, it would be logical to choose a lime colored vest for better visibility in contrast to the equipment. If you're working near trees or forest, it might be wise to wear an orange vest in contrast.
Popular Safety Depot Class 3 safety vests
These are the three most popular ANSI Class 3 vests we offer:
Our most popular Class 3 safety vest is made with 100% polyester fluorescent lime colored mesh backing, offering a comfortable open weave to keep workers cool. An easy zipper front closure, six total pockets (two inside), and four-inch-wide reflective stripes make this a high quality choice at a reasonable price of $12.95.
This orange Class 3 vest is identical to the M7148C3 Lime Mesh mentioned above – the only difference is the color selection. This vest currently sells for $12.50 each (our overstock sale price).
Another popular choice is this low cost ANSI/ISEA Class 3 vest. Its light weight fabric provides barely-there comfort. Three total pockets offer plenty of cargo space to store items such as a cell phone or keys. The best part is $5.95 price – it's the most economical Class 3 vest we sell – and doesn't skimp on visibility. This vest is also available in orange.
If you have any questions on safety vest styles, sizing or overall recommendations, please give us a call at (800) 746-5357.
Your Safety. Our Passion.